Sheep wool processing line/sheep wool washing machine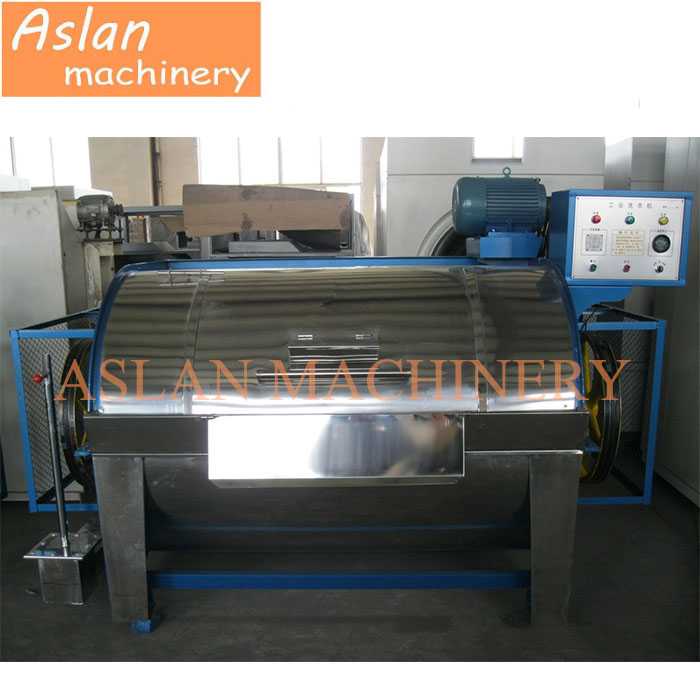 Price:¥
Specifications:
Quick Details
The detailed contents:
Application
washing wool machine is used to wash the wool , cotton or chemical fiber or their cloth material fabric which is the best chose for hotel, school,wool or cotton processing factory.
This wool washing machine made of stainless steel,the material is wearable and easy to clean.Opean the door and put the dirty wool into it,add wool cleaner,shut the door,the water will into the machine automatically,select the washing time(usually 40 minutes),the machine will wash the wool very efficiency.
Features
The industrial washing wool machine
has the following features: quick steam heating, easy operation, convenient upgrading, wide usage range, to meet with the users' requirements, Based on the applicable scope, beautiful outside appearance, convenient operation, stable running and convenient upgrading. It is a kind of economic washing machinery.
Based the gas driving valve, electromagnetic valve, NC constant temperature and programmable as the controlling components. As per the preset temperature, add the steam automatically to keep the stable temperature, setup the time to control the working time automatically so as to control the machine easily. The machine is made of the high-quality stainless steel plate and other components to ensure all the users high and reliable quality.
Technical datas
The capacity is from 15kg to 400kg per hour. industrial washing machine wool cleaning machine
Model

Max.washing

Capacity(kg)

Drum dimensions

(mm)

Speed

(r/min)

Power

(kw)

Steam pressure

(MPa)

Overall dimensions

(mm)

Whole machine

Weight(kg)

YMQX-10

15

550*600

35

0.75

0.3-0.6

1100*850*1200

260

YMQX-50

50

800*1000

33

1.5

0.3-0.6

2000*1300*1500

800

YMQX-100

100

950*1420

33

3

0.3-0.6

2350*1400*1900

1200

YMQX-150

150

1080*1600

31

4

0.3-0.6

2500*1400*2100

1500

YMQX-300

300

1300*2260

29

11

0.3-0.6

3514*1850*2300

2600
industrial washing machine wool cleaning machine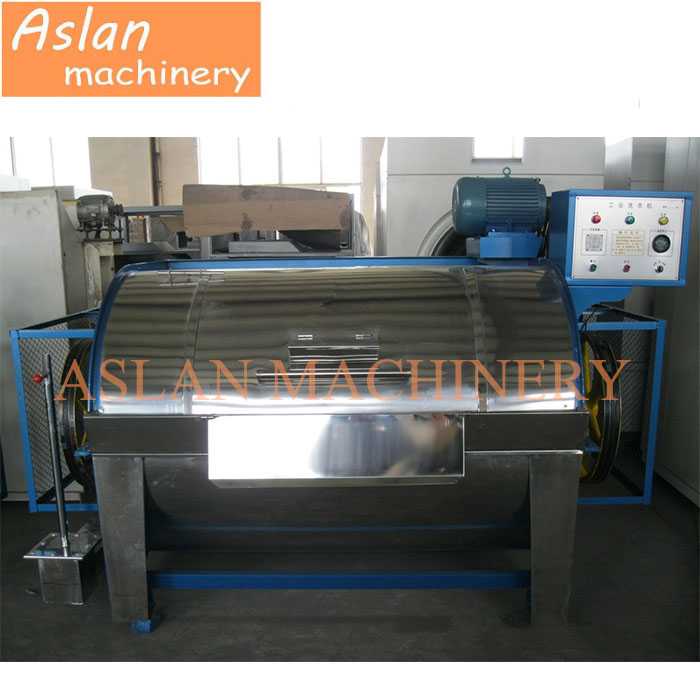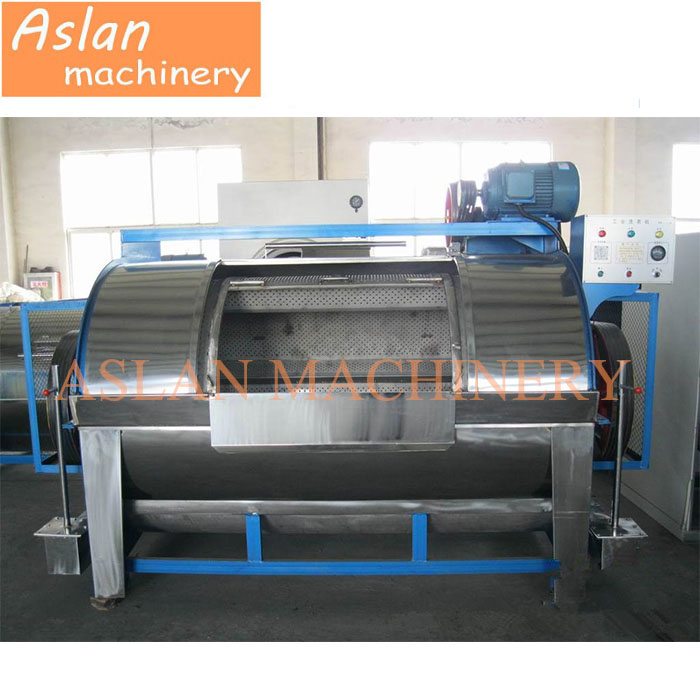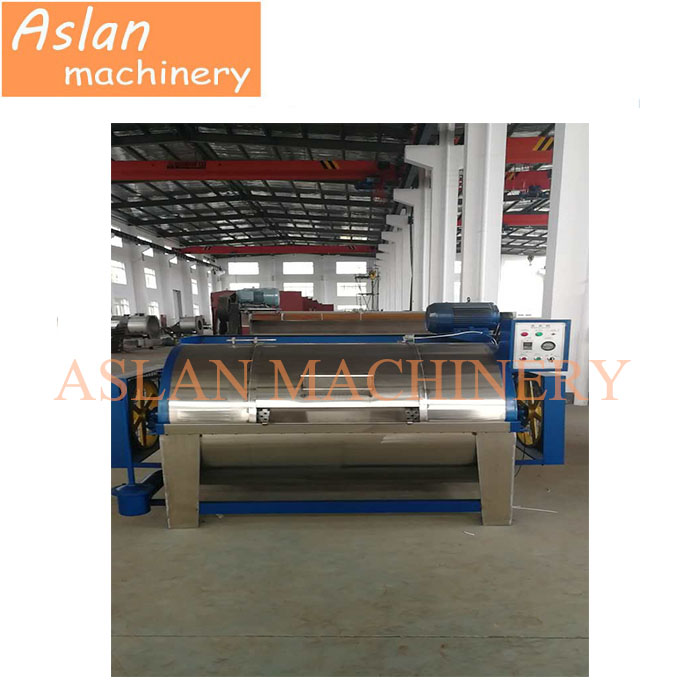 Whole line for industrial washing machine for wool:
washer-dewater-dryer
50kg/h wool processing line industrial washing machine wool cleaning machine
Washer
Model

Capacity (Kg)

Drum (mm)

Speed

(r/min)

Power

(kw)

Steam pressure

(mpa)

Dimension

(mm)

Weight (kg)

YMQX-50

50

800*1000

33

1.5

0.3-0.6

2000*1300*1500

800
Dewater
| | | | | | | |
| --- | --- | --- | --- | --- | --- | --- |
| Model | Drum dia.(mm) | Main shaft(r/min) | Power (kw) | Max capacity(kg) | Dimension (mm) | Weight (kg) |
| MTS-600 | 600 | 960 | 2.2 | 45 | 1250*1250*700 | 450 |
Dryer wool washing machine

Model

Max.capacity

(kg)

Drum

Dimensions

(mm)

Drum speed

(r/min)

Power

(kw)

Steam

Pressure

(MPa)

Electric heat up

Consumption

(kw)

Overall dimensions

(mm)

Whole machine

Weight

(kg)

MHG-50

50kg

1140×1000

33

2.6

0.3-0.6

24

1280*1750*2100

700
100kg/h wool processing line industrial washing machine for wool

Washer
Model

Max.washing

Capacity(kg)

Drum

(mm)

Speed

(r/min)

Power

(kw)

Steam pressure

(MPa)

Overall dimensions

(mm)

Whole machine

Weight(kg)

YMQX-100

100

950*1420

33

3

0.3-0.6

2350*1400*1900

1200
Dewater
| | | | | | | |
| --- | --- | --- | --- | --- | --- | --- |
| Model | Drum diameter(mm) | Main shaft(r/min) | Power (kw) | Volume (kg) | Dimension (mm) | Weight (kg) |
| MTS-800 | 800 | 910 | 4 | 80 | 1450*1450*800 | 760 |
Dryer
Model

Max.capacity

(kg)

Drum

Dimensions

(mm)

Drum speed

(r/min)

Power

(kw)

Steam

Pressure

(MPa)

Electric heat up

Consumption

(kw)

Overall dimensions

(mm)

Whole machine

Weight

(kg)

MHG-100

100

1320*1150

31

4.4

0.3-0.6

42

1500*1930*2300

1000